<![if !vml]>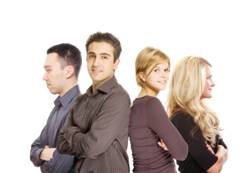 <![endif]>
DELANO DE WITT
ETRANS leader Delano de Witt has been involved at various levels of general management, human resource management and consultation. Delano holds a B Comm., Hon. B Comm. (Business Economics) and M Comm. (Business Management) degrees. He is also registered as a Master HR practitioner with the South African Board of HR Practitioners. He further holds membership of the Institute of Personnel Management, the American Compensation Association as well as the Institute of Directors.
He has vast practical experience in all functions in the specialist human resource disciplines i.e. strategic planning, HR transformation, Organizational development, BEE, Labour relations, Performance Management systems, Measurements and benchmarking absenteeism programs, remuneration etc), employment equity, the development and design of HR policies, conditions of service and benefits and end to end HR administrative functions. Delano networked internationally in the field of human resources and also made several presentations to management teams of various businesses and at business schools of universities. He is an external examiner for various Universities (MBA's)
Several of his articles in the human resources field were published in various professional periodicals.